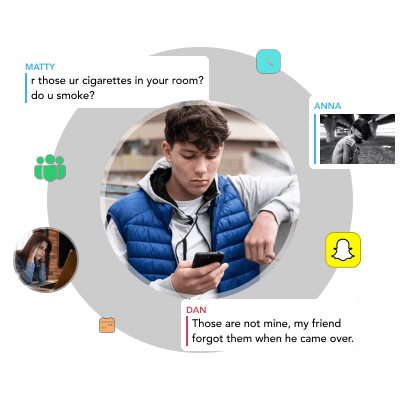 FAQ
If Any Questions Left
Why do I need an app to monitor Snapchat?
Kids are savvy, but they can also be a bit naïve. When looking for a way to send messages and pics without being tracked, Snapchat is the first app that comes to mind. And kids love it. They think that once things vanish from Snapchat, it's gone forever. But you can stay one step ahead by getting a Snapchat monitoring app like mSpy. It lets you discover content they've been sending and receiving, even after it's been deleted from their phone. And you can even see the pics stored on their phone too.
How do I track Snapchat conversations?
The trick is that it is practically impossible to see other people's Snapchat in the app itself. However, it is possible to do it with the help of special spying apps. You can see many of them in the App Store or Google Play. It should be noticed that free spying programs are usually not reliable and even dangerous for your own devices; therefore, trust only reliable software developers who release only paid but high-quality apps, such as mSpy.
This innovative app may help you not only monitor Snapchat inconspicuously but also learn information about a person with the help of such functions as reading of all text messages (including messages from social networks), access to call logs, GPS tracking, access to all media files, etc. By choosing mSpy, this impressive range of services will be available for you. One may ask what to do if you do not need all these functions? It is not a problem because we offer our clients different subscriptions with a different set of functions. Hence, there is no necessity to overpay for functions you do not need.
How do I Install an app for tracking Snapchat messages?
If you want to become a Snapchat spy with the help of our app, just remember several things. First, the mSpy app is compatible with the two most popular operating systems – iOS and Android. That is why, if you have an Apple device while your victim has an Android smartphone, you may not worry that the app will not work properly.
All you need to do is to install our Snapchat tracker on the target smartphone. The installation is very easy and usually does not take more than several minutes. As a result, you may monitor Snapchat and other programs installed on this cell phone without any limits.
Is it possible to see other people's Snapchat conversations?
It is important to mention that the mSpy app should be installed on your cell phone as well. If you want to spy on someone with the help of our Snapchat tracker app, you should install it in the form of a control panel, which is also available for downloading and installation in the App Store or Google Play.
Further on, it is necessary to launch the app and choose the type of subscription that includes all functions interesting to you. After payment, your subscription will be activated, and you may start using the app. You receive an opportunity to view various snaps, both sent and received by a particular user in Snapchat. Moreover, mSpy gives you an opportunity to make screenshots in Snapchat inconspicuously, although this function is not available to Snapchat's users directly.
So, now you know that it is easy not only to attract people's attention with the help of the Snapchat app but also to spy on them. Therefore, if you want to learn more about your relatives, friends, and significant others from the Snapchat messenger, the mSpy app is what you need! Don't waste your time, start using mSpy for tracking Sapchat messages right now.
Should I trust free Snapchat tracking apps?
They say the best things in life are free. But when it comes to your privacy and safety, it's wise to avoid free products. Because if you aren't paying for it, it likely means that you are the product. In the case of free apps that allow you to monitor Snapchat, the old adage buyer beware applies.
These kinds of Snapchat tracking apps could be designed to steal your information, or gather it to sell to advertisers. And some of the free options don't even work in covert mode, so the person you're trying to monitor will know that you're tracking them.
That's why it's always a good idea to look for a paid app to monitor Snapchat. And since it's perfectly natural to not want to shell out money without testing the waters first, consider an app that offers a free trial, a demo, or a no-nonsense money-back guarantee, just like mSpy.
What else can an app to monitor Snapchat do?
Now that you know how to monitor Snapchat, imagine what else you can do. It turns out, quite a lot. A good Snap monitoring solution does way more than just Snapchat tracking. It also lets you monitor the other apps they're using to chat.
Sure, Snapchat might be incredibly popular among kids looking to share compromising pics and send inappropriate messages without the risk of parents being able to see what they've sent and received. But kids are savvy and they're always on the lookout for apps that let them keep their chat habits secret.
If you invest in the top app to monitor Snapchat, you'll also be able to see their chats on other social media messengers. It gets better. If they've deleted their messages and pics, you can still take a look and see what type of pictures and videos they've been sharing with others.
What's the biggest benefit of a Snapchat monitoring app?
Installing a Snapchat tracker is never a wasted investment. If you discover that they're sending things they should be sending, the app will have paid for itself. And if you discover that they're not doing anything inappropriate, consider that a win too. Because if everything checks out and they're using Snapchat properly, you'll have gained a whole lot of peace of mind. And you can't put a price on that.