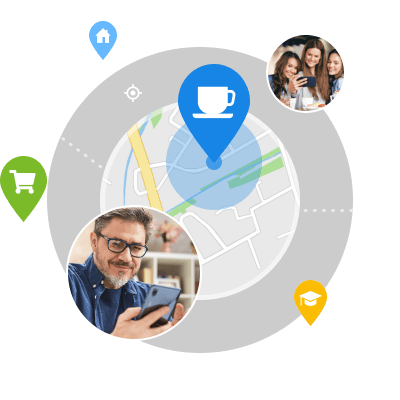 faq
If any questions left
Is GPS cell phone tracking a real thing?
Absolutely. You'll find a GPS phone tracker baked right into mSpy, a parental monitoring app designed to bring you peace of mind.
How does geofencing work?
Worried about your daughter sneaking out at night? Or maybe you want to give your kids the freedom to travel around town, but want to make sure they're not crossing over to the wrong side of the tracks. Whatever the reason, mSpy can help. With geofencing, you can set forbidden areas on a map. When your son or daughter enters one of these zones, you'll get alerted. That means you can be confident your kids are staying in an area that you approve of.
Why should I install a GPS phone locator on my kid's phone?
If your kids are old enough to go to school on their own, they're probably old enough to hang out with friends late into the evenings. And while they deserve freedom, you were a kid once, too. You know that hanging out at a friend's house doesn't always mean hanging out at a friend's house. But unlike when you were a kid, modern technology is here to help, especially when you have a GPS cell phone locator in your arsenal.
Parents all over the world are turning to mSpy to keep tabs on their kids. Once installed, you can find out exactly where they are on a map. But it goes beyond just showing you their location. mSpy also lets you set safe zones. If your child enters or leave one of the zones you set, you'll get an alert. This way, you don't have to constantly monitor your phone and check their location.
Why can't I use a free hidden location tracker instead?
You can find quite a few mobile location tracker apps online. But most of them aren't very good. In fact, some of them are designed to trick you into handing over your personal info, including your credit card number. Avoid the free hidden location tracker apps — they're nothing but spyware. Instead, look for a paid option from a reputable source, like mSpy.
We've earned the trust of more than 1.5 million users worldwide and are the number one choice for countless families all over the planet. To join a world of satisfied parents, just pick your subscription and start monitoring. We offer multiple options that fit your needs.
Is it legal to use a GPS cell phone locator?
Yes, as long as you're using it on your child, and they're underage. At the end of the day, their safety is your responsibility. A GPS phone tracker app can help you keep tabs on them, so you can give them freedom to explore the neighborhood without having to worry.
Do I have to tell my child that I'm tracking them?
We always recommend that you inform your children that you're using a GPS location tracker. However, if they're a minor, you have the legal right to track their location without getting their explicit permission beforehand.
Can I find out someone's location just by knowing their phone number?
No, that's just not possible. You need a phone locator app like mSpy to find out their location. And you need to install the app on their device first. Simply knowing someone's phone number isn't enough to track them.
How to get someone's GPS location on their cell phone with mSpy?
If you want to know how to see someone's location using a GPS phone locator, you're on the right page. With mSpy, the leading mobile phone GPS tracking solution, you can track their GPS coordinates with just a tap and see their location on a map. And it gets better. With geofencing technology, you can set safe zones and restricted areas. Don't want them leaving a 2-mile radius? Set that on your phone. If they leave the zone, you'll know about it so you can take immediate action.
mSpy gives you more than just location details. You can see a history of where they've been, including detailed coordinates, dates, timestamps, and more. All this, plus a summary report to show you which locations they visit the most. If something looks unusual, you can investigate further.
Why is mSpy the best app to find someone's location by phone?
We get it. You want to know if it's possible to track someone's location with a phone number. The short answer is no. And you know what? The long answer is also no. The truth is, no matter what some apps might claim, it's impossible to track someone's location simply by knowing their phone number. Any app that claims otherwise is clearly lying to you, and you should steer clear of handing over your cash. Even if they offer you the service for free, chances are they're just offering you spyware with the end goal of stealing your personal info.
Instead, turn to an app like mSpy. Because it lives invisible on their phone, they'll have no idea that you're tracking their location using GPS. And even if they swap SIM cards, you'll still know where they are since the app isn't tied directly to their phone number.
Is mSpy just a GPS location tracker?
mSpy is one powerful app, designed to help you locate your loved ones. But it does way more than that. The monitoring solution also lets you keep your loved ones safe through innovative tools that give you peace of mind.
With mSpy, you can see their text messages so you'll know if they're being cyberbullied. You can also review their social media chats, see the pics and videos they've sent and received, review their browser history, see which Wi-Fi networks they've connected to, block applications, access their contacts and calendar, monitor their calls, and so much more.
How do I install mSpy on my kid's phone?
mSpy might super-advanced, with powerful features to help you find their location. But the GPS phone tracker app is actually really easy to use. From the quick installation process to use the software, it couldn't be easier. You can download mSpy directly on the target Android. Or you can connect it to your iPhone remotely using their iCloud login credentials.
While we've made the process extremely simple (even a parent can follow it), we're always standing by with help. If you run into any issues, our support team is available to help, 24/7.
Does my kid's cell phone need to be connected to Wi-Fi for the GPS phone tracker to work?
It doesn't need Wi-Fi, but it does need to be connected to the Internet. If your kid has a cell phone with a data plan, then you're good to go. The phone GPS locator will work as long as they have a working Internet connection, whether Wi-Fi, 3G, LTE, or 5G.