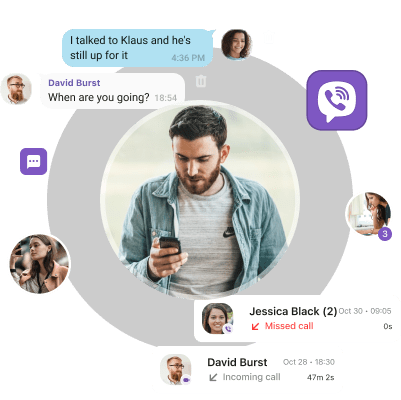 FAQ
If Any Questions Left
Why should I consider a Viber online tracker app?
Are you tired of searching for a Viber tracker, only to discover that it does everything but let you actually track their Viber conversations? We don't blame you. Lots of kids use Viber to communicate with their social circle, so as a parent, it's important to be able to read their conversations and understand what's going on in their life. Good news. mSpy is the Viber online tracker app you're looking for. And it's packed with so many other features for a complete parental control monitoring solution.
Can you track Viber text messages?
Yes, if you have a Viber tracker tool like mSpy. By logging in to your account, you can see every text conversation they've had on Viber. Each conversation includes date & timestamps, so you'll know when each chat was sent and received. It's Viber tracking made easy.
Can I find out who they called and who called them?
Absolutely. Viber is hugely popular, not just for text chatting, but for voice calls. For many kids around the world, it replaces traditional phone calls — particularly because it only costs data, not long-distance minutes. With a Viber tracker, you can see details of their voice conversations. While parental monitoring apps don't actually record the voice conversations, you'll gain a clear picture of who they spoke to, how long they spoke to them, and how often they have voice chats.
How can a Viber online tracker app help with cyberbullying?
A Viber spy tool can help you stay on top of their group chats, and help you identify cyberbullying. Remember, not all bullying happens on the playground. It continues at home through social media, and often in chat apps that are designed to be private. With mSpy, you can find out if they're being targeted by cyberbullies (or if they're doing some cyberbullying of their own).
Can I spy on Viber without having their phone in my hands?
We know what you're thinking. A Viber spy app isn't real, is it? Surely, to be able to read your kid's Viber conversations and call details, you need to ask them for their phone, right? Wrong. With a Viber tracker app like mSpy, you'll be able to see all their Viber activity in one place. Simply log in to your Control Panel and browse their conversations. You'll know right away if they've been saying anything controversial, or if they've been having conversations with people they shouldn't be talking to. Millions of happy users can't be wrong. Being able to spy Viber messages without target phone is a gamechanger.
Does mSpy help with location tracking?
When you buy the right kind of parental control app, you'll have Viber location tracking at your disposal. That's true with mSpy, one of the most full-featured monitoring apps around, and a top choice for parents of kids who use Viber.
That's because mSpy doesn't just include Viber spying in terms of conversations. It also includes tools that let you know where they are at any given time. If they're out and about, you can pop into your Control Panel and see their location on a map. You can also see which Wi-Fi networks they've connected to in the past, helping you paint a clearer picture of where they've been and how often they've been there.
It gets better. With this Viber track tool, you can set safe and danger zones. If your child enters or exits one of those zones, mSpy will send you an alert so you'll know if they're somewhere they shouldn't be.
Does Viber tracking work on iOS and Android?
With a Viber spy app like mSpy, it doesn't matter what kind of OS your kid uses. You'll be able to see their Viber data all in one place. However, it's important to note that for iOS, you'll need to jailbreak their device, a simple process that can be done by following a few YouTube tutorials. For Android, rooting the device is required (again, lots of tutorials are available). If your kid's device isn't jailbroken or rooted, we can help you with that, too.
Do they use other chat apps? For some mSpy features, you don't necessarily need to root or jailbreak their device. For example, WhatsApp and iMessage work on iOS without the need to jailbreak the target device.