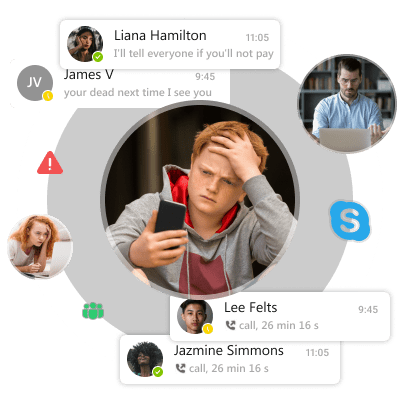 FAQ
If Any Questions Left
What is a Skype tracker and why do I need it?
Initially created as computer software able to make and receive calls over the Internet, Skype has become the most popular chat and call service used both, at home and for business. Moreover, it is free of charge that makes it especially attractive for teens and tweens. This is actually one of the reasons why you need a reliable Skype spy app The fact is that monitoring standard outgoing and incoming calls and messages may be not enough in case you are supervising your underage kids or employees.
The only way to know the truth behind the scenes is to get access to all conversations taking place on the monitored device, including those made via instant messengers and communication applications. This is where our Skype spy software will come in handy! After all, it is one of a few apps existing today able to gather comprehensive information from another person's Skype account. In this way, if you want to stay fully informed of what exactly is going on with your children or employees, the mSpy Skype monitoring tool is a must-have!
What can you do with a Skype spy app?
Stop asking how to Spy on Skype remotely. With our smart Skype tracker, you will be able not only to monitor your kid's or employee's Skype chats, including contact details with profile names and pictures, but also to check data from the dashboard and to browse status messages as well. In particular, once you install the mSpy Skype monitoring software on the target mobile device or computer, you can immediately:
read all Skype chats;
view contact details and all addresses;
see the date and time of when exactly each conversation took time;
track Skype calls;
monitor all the files sent and received via this app;
access all this information remotely from your online Control Panel;
see their location on a map with the Skype location tracker feature, even if they aren't currently using Skype.
What are the benefits of Skype tracking?
A Skype tracker is a must-have for a variety of reasons. For example, as a parent, you may be interested in what people your teen is making friends with and what content they are sharing with each other. As a business owner, you need to be sure your employees are not spending their working hours on personal conversations or, what's more, communicating with your competitors. In general, a reliable Skype spy provides its users with the following benefits
it gives you an opportunity to quickly spot any suspicious conversations and stop any potential problems before they might occur;
a Skype tracker allows you to view the names of everyone your kid or employee is chatting with and to keep an eye on inappropriate contacts and unwanted people;
it gives you full access to received and shared texts, pictures, photos, and videos;
our Skype monitoring tool can help you prevent inappropriate content from reaching the wrong recipient;
it is able to increase your employees' productivity in case they are aware of being monitored;
a smart tracking app is the best security against unauthorized activity and data leakage.
What makes the Skype spy app the best solution for tracking skype remotely?
This list of Skype tracking advantages is not exhaustive that makes our powerful Skype spy software the best choice for both, mobile devices and computers. Furthermore, it is supported by exceptional 24/7 customer support service and absolutely unique tech assistance. Besides, you can always try our free 7-day trial to ensure that mSpy is truly the best of all possible tracking apps existing today! So what are you waiting for? Just let us know about your problem with Skype monitoring, and we will give you an effective solution to it!