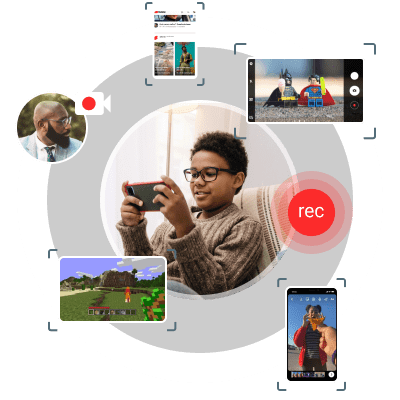 faq
If any questions left
How does a screen recorder work?
Thinking about installing a hidden screen recorder? Smart move. When it comes to phones and apps, kids are incredibly knowledgeable. And sometimes, it's hard to keep up with all the apps they're using to communicate with friends, make new ones, and connect with their peers. Thankfully, a secret screen recording app like ours can help. Baked right into mSpy, Screenrecorder does exactly that — it captures the phone's screen, sends screenshots to your mSpy control panel, and gives you the information you need to address the situation with your kids, whatever it might be.
What's the difference between a keylogger and a secret screen recording app?
If you're searching for the best screen recorder Android apps, you might come across a keylogger. It's important to note that the two aren't the same. mSpy actually comes with both, but some apps claim to be a secret screen recorder app when really they're just a keylogger. The difference? A logger logs keystrokes typed on a keyboard. But an undetectable screen recorder will actually show you everything on screen. That includes words typed, pics sent, videos received, and anything else you can imagine (and even stuff you can't).
Are screen recorders good for schoolwork monitoring?
It's no secret that kids love to defy their parents, especially when it comes to doing their homework or school assignments. And because children and teens do most of their assignments on their device, whether a Mac, PC, iPad, iPhone, or Android, you can't exactly ask them to turn over their device when they walk through the front door. So, how can you be sure they're actually doing their work? That's where an undetectable screen recorder comes in. mSpy's screen recording feature lets you drop in on what your kids are doing to ensure that they're using their time wisely. Are they playing video games or chatting on social media when they should be getting their work done? A hidden screenshot app can tell you.
How can a secret screen recorder let you know if they're safe?
Is your teen getting older? Then there's a good chance she's making new connections on various social media platforms. Some of those could be dating apps, like Tinder. And once she meets new people, she'll likely add them to her Facebook Messenger, WhatsApp, or Snapchat contact list. If she's talking to people she shouldn't be talking to, a hidden screenshot app can clue you in. You'll know who she's talking to, what she's saying, and if she's doing something that could be incredibly compromising.
But it's not just dating apps that are the issue. Many innocent social media platforms are littered with people pretending to be teens or kids. They may attempt to you befriend your teen and trick them into doing something they shouldn't. A hidden screen recorder app for Android can help you discover what's really happening.
How to install a screen recorder without them knowing?
Getting started with the best hidden screen recorder Android app is a piece of cake. Just install mSpy and you'll be ready to go. Seriously. And if you already have mSpy, there's nothing more you need to do. Screenrecorder is available in your Control panel.
How to enable screen recording?
Enabling a hidden screenshot app is easy, especially if you choose mSpy. Just purchase mSpy, install it on their device, and then log in to your Control Panel whenever you want to review their chats. There's no fiddling around needed and no complex hoops to jump through every time you want to review their messages. Just log in and you'll see if there are new screenshots available. It really is that easy.
What can I screen record without them knowing?
Let's be real. The most important thing you want to know is who they're chatting with and what they're saying. That's why we designed our hidden screenshot app to work with the most popular chat apps, including WhatsApp, Snapchat, Instagram, Facebook Messenger, Telegram, and Skype, with more apps coming soon.
As they type away in these apps, our spy screen recorder takes notice. Every time there's a change on screen (for example, they scroll a page, type on a keyboard, or a new message arrives), mSpy takes a series of screenshots. When a certain number of screenshots have been taken, it sends them to the Control Panel.
Why is mSpy the best hidden screen recorder for Android?
Not all screen recorders are created equal. Some can be detected by the person you happen to be recording. If you're trying to monitor your child with a hidden screen recorder app for Android, the last thing you want them to do is actually know about it. That's why it's important to look for a hidden screenshot option instead of one that lets them know you're recording their activity.
What's the difference? A detectable screen recorder app often places an app icon on the device you're recording. Kids are very savvy, and they'll know right away if something new appears on their phone that they didn't download. But with an alternative like the mSpy Screenrecorder, they'll have no idea that you're able to see their activity.