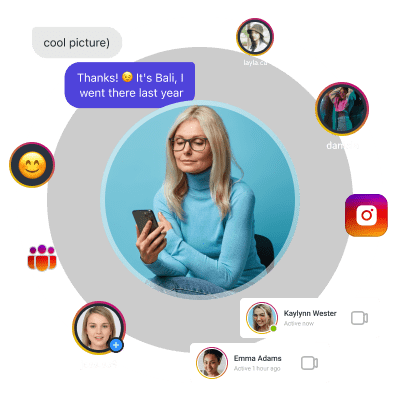 FAQ
If Any Questions Left
How to monitor Discord on someone else's phone?
Monitoring Discord is now easier than ever. There are many apps made specifically for this purpose. Your task is simply to find the one that fits your need and budget. Once installed on the target phone, the app will intercept Dicored messages, which you can easily access in your online account.
Can I monitor Discord for free?
While it's possible to use a free Discord spy tool, we strongly advise against it. Choosing a free tool can pose serious risks to your and your loved one's personal data. These apps often contain harmful spyware and viruses that are specifically designed to steal information like emails, passwords, and credit card details. To protect yourself, we highly recommended to avoid using free Discord spy apps for your own safety.
Why do I need a Discord spy app?
Discord poses itself as a secure chatting platform for gamers, but in reality, it's full of inappropriate and harmful content. Most users use fake names and create nicknames that aren't related to their personal info. This can be used by scammers and hackers to gain your loved one's trust, leading to unpleasant results like data leaks. The absence of end-to-end encryption makes it even easier for such individuals to access someone's data.
Also, remember that some gamers on Discord may show abusive behavior. They might use offensive language or bully other players. This type can create a negative and unpleasant experience for everyone in the gaming community. That's why it's important to have a reliable Discord spying tool to know what your loved ones discuss in their chats and who they're doing it with.
Does mSpy monitor Discord?
mSpy is a complete monitoring app stuffed with a whole range of features and Discord monitor is one of them. This tool can be helpful for those who want to protect their loved ones from potential dangers associated with this chatting platform. mSpy gives access to all incoming and outgoing Discord messages, allowing you to check if they're texting responsibly.
Can I see deleted messages on Discord using mSpy?
Although viewing deleted messages isn't available right now, mSpy offers a social media monitoring tool. With it, you can access all texts, including deleted ones from popular messaging apps like Instagram, WhatsApp, Facebook, Snapchat, and more. Not only can you read messages they send and receive, but you can see the exact timestamps, media files and links shared there.
Does mSpy Discord monitoring feature work on both Android and iOS devices?
This feature is a currency available only for Android monitoring. If the targeted device is iPhone, don't worry! You can still benefit from other powerful features that mSpy provides. This includes location tracking, social media monitoring, call and web history viewer, and more.
Will they know that I'm monitoring their Discord chats?
mSpy isn't only the best Discord monitor app, but it also works in a hidden mode. As soon as you install the app on their phone, you can hide the app icon, ensuring your monitoring activity remains undetectable.
What else can I do with a Discord spying tool?
Discord monitoring is just a begging of what mSpy is capable of. mSpy is an all-in-one tool for keeping tabs on everything your loved ones are doing on their phone. Apart from Discord chats, you can also view text messages and social media conversations on Snapchat, Instagram, Facebook Messenger, Skype, and even Tinder.
Keylogger and Screenrecorder are other amazing tools that can give you an even more complete picture of someone's activity. If you combine both these features, you can see exactly what someone types in their web search and chats, including the media files they share.
Is it legal to monitor someone's Discord?
It's generally legal to use a monitoring app to keep tabs on your own children if they are under 18 and living under your care. But if you want to monitor an adult, you should get their consent first. Also, keep in mind that law differs even from state to state. We recommend that you consult your local authorities before purchasing any Discrod monitoring apps.