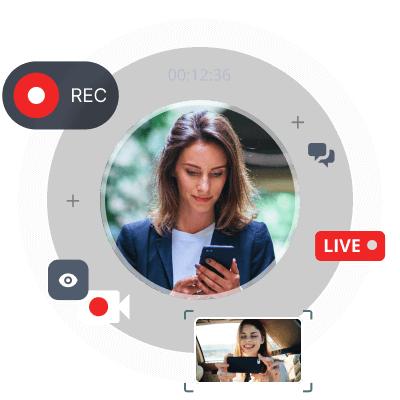 How do I install a remote cam app?
It's very easy to install, especially if you choose mSpy. After you pay for your subscription, you'll receive installation instructions in your inbox. Just follow the instructions and you'll be up and running in no time. The best part? You don't have to install the camera app separately. Just install the entire mSpy package in one go. The cell phone remote camera feature is one of the many tools that makes mSpy such a powerful monitoring app and the most trusted by parents all over the world.
Can I remotely access a cell phone camera?
Yes, and it's easy to do so. Once installed, simply log in to your Control Panel to activate their camera and start recording. When mSpy finishes recording their surroundings, the footage will be saved in your Control Panel and available for you to review.
Will they know I'm using an app to turn on cell phone camera remotely?
It's perfectly normal to worry about getting caught using an app to remotely access Android phone camera. Your intentions to use such an app are pure. You want to keep your kids safe. You want to make sure they're hanging out with the right crowd, and that they aren't being cyberbullied. But you also recognize that if they discover you're using an app to spy on cell phone camera, they may start to not trust you. Thankfully, with an app like mSpy, you won't have to worry about them finding out. That's because mSpy works in hidden mode.
Do I have to watch live?
No. When you use phone as remote camera with an app like mSpy, you'll have access to the recordings from their camera in your Control Panel. Just log in whenever it's convenient for you and review the footage. It really is that easy.
Should I choose a free remote camera app?
If you do a search, you might discover several free apps that let you turn on cell phone camera remotely. And while these apps might be tempting, you should exercise extreme caution. Remember, if you're not paying for an app with money, you're paying for it with your data. Free Android remote spy camera apps can be extremely dangerous. They are often designed with malware and other threats, focused on stealing personal data. Some apps might even activate the camera without warning, take snapshots, and upload them to servers that are beyond your reach. It's a much better idea to pay for an app from a reputable company that takes security and privacy seriously.
Do I have to be on the same network as them to see their surroundings?
No, at least not with mSpy. While some apps might require you to be on the same Wi-Fi network to activate the cell phone remote camera, mSpy lets you do so from anywhere in the world. Seriously. Whether they're at a friend's house down the street or halfway around the world, you can activate the camera remotely. There is no requirement to be on the same network. In fact, they don't have to be on Wi-Fi. As long as they're connected to the Internet via 5G or LTE, you're good to go.
What else does mSpy show me?
In addition to recording their surroundings using their camera, mSpy also lets you listen in on what's happening via a hidden mic. But seeing and hearing their surroundings is just one part of the story. mSpy is known for on-device monitoring. Once installed, you'll be able to read their texts, view their emails, see their private social media chats, view their location, see screenshots of their phone in use, find out who they called, and so much more.